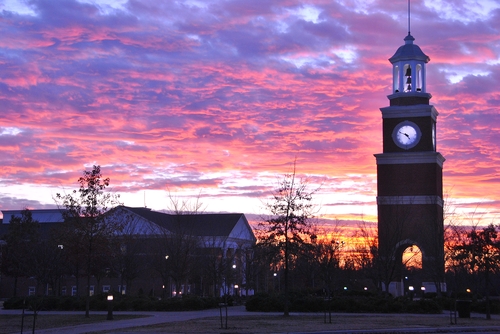 On-Campus Housing - Terms of Agreement
Each registration for on-campus housing must be made by a "Responsible Party" (the person who accepts all financial and oversight obligations for the room they are reserving). Prior to registering, they are asked to read the following Terms of Agreement. Then on the registration page labeled "Student Registration Step 1 - Contact Information", they are required to certify that they have read and accept all these Terms, by checking the box at the bottom of the page.
1. Rental period of on-campus housing is from Sunday May 28th - Sunday June 4th, 2017.
2. Check in time AT FRED DELAY GYMNASIUM
Sunday, May 28th between 2:00PM - 4:00PM
Monday, May 29th between 2:00PM - 4:00PM
Since this is not a hotel, we cannot accommodate all day check-in's.
Note: Housing costs are the same fixed price regardless of the check in time or day.
3. Check out time AT BOWLD COMMONS
Sunday, June 4th between 7:00AM and 10:00AM.
No late check out is permitted.
Failure to check out by 10:00AM may result in a fine.
4. On-Campus Housing Rules are posted on this website on the UU Housing Rules tab. Each Responsible Party is expected to read these rules and ensure that they are followed in the suite they are responsible for.
5. Linens and Supplies You must bring your own linens (sheets/blankets/pillows and cases), towels, kitchen (dishes/utensils/pots and pans) and personal items. There will be none provided or available to purchase.
6. Keys Each room will come with 2 keys. Lost keys will cost $25 each to replace, and payment will be required at time of replacement, or upon checkout if a key is not returned at that time. NOTE: If a mom is judging and has the key to the suite, and the participant forgot something in the room, there will be no one to let him/her in the room. Please bring all items needed to the competition or make arrangements ahead of time.
7. Complimentary UU Rec Passes will be available for all individuals staying in campus housing. Age limitations and some restrictions apply; more information will be available at check-in.
8. Payment in Full is required to secure a reservation and is completely non-refundable once a reservation request is accepted and a suite is reserved in that name. If no rooms are available at the time a reservation request is made, that reservation will be put on a Wait List.
9. Wait List If you are added to the Wait List for a full suite (4 bedrooms) or shared half-suite (2 bedrooms), you may:
A) Opt to cancel your request and be removed from the wait list;
B) Change your suite request to full suite (4 bedrooms) or shared half suite (2 bedrooms), if still available;
C) Remain on the wait List and hope the type of housing you want becomes available. Further information will be sent to those who are placed on Wait List.
10. Chaperones for Suite Occupants If the Responsible Party making a reservation for campus housing will not be present at NITOC, then the Name, Phone number, and Email address of a chaperone will need to be entered on the registration page. A responsible adult 25 years of age or older MUST stay in the suite with the minor occupant(s).
11. The Responsible Party who pays for a room/suite assumes all responsibility for any damages to that room or its furnishings, as determined by UU facilities staff.
12. The Responsible Party agrees to hold harmless the Board of Directors of Stoa, and their agents, from any and all liability, loss, damages, costs, or expenses which are sustained, incurred, or required arising out of the actions of the Responsible Party, or those in his/her care in the course of NITOC 2017.